California's Long Beach is an all-time favorite of locals and visitors. This coastal and port city sits 20 miles (32 km) south of downtown Los Angeles. Thanks to its hot-summer Mediterranean climate and proximity to the Pacific Ocean that enables tourists to experience an array of marine activities and be part of some of the unique events from the annual Long Beach Grand Prix to the Lesbian & Gay Pride Event in a seamless comfortable way. Cheapfaremart lists the top 10 things to do in Long Beach to help you plan your USA Holiday.
If you are new to the place, first of all, you should know how the climate behaves. The temperature sways in the comfortable range all year round. August is the hottest month (Max 79.5°F or 26.4°C, Min 64.9°F or 18.27°C). The destination receives rainfall in the range 1.14″ (December) to 0.08″ (June).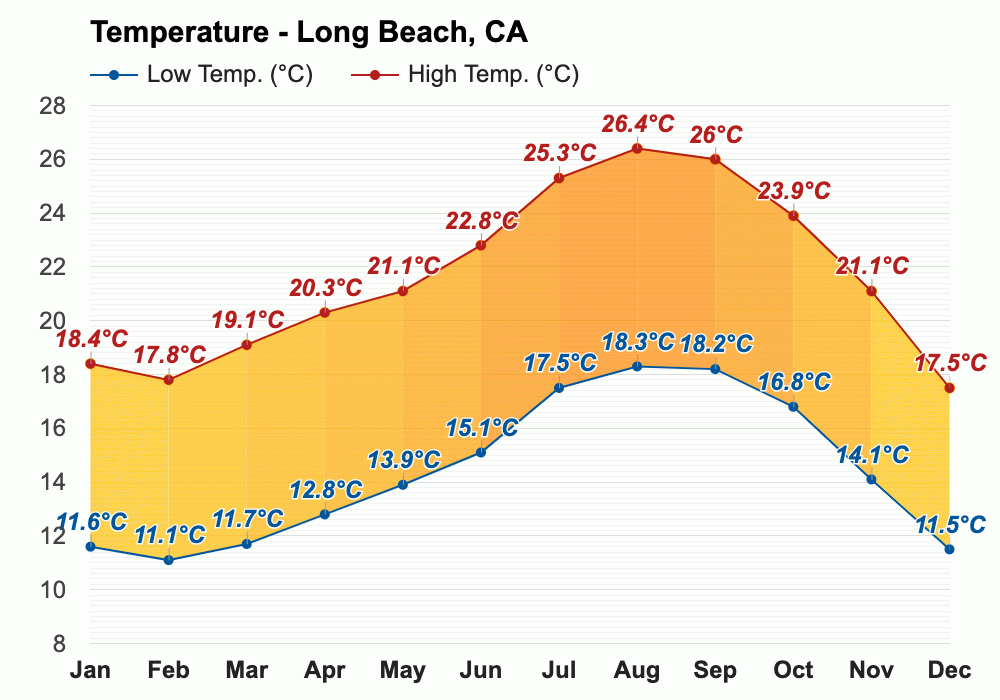 #1. Visit the Aquarium of the Pacific
Your list of things to do in Long Beach is incomplete without this aquarium. Spread over a 5-acre (20,000 m2) site on Rainbow Harbor in Long Beach, the Aquarium of the Pacific is one of the top attractions with a footfall of 1.5 million visitors. It's home to around 11,000 animals representing over 500 different species. The aquarium is an accredited member of the Association of Zoos and Aquariums (AZA).
#2. Tour over Long Beach with a Private Helicopter
Get an aerial view of the port of Long Beach and Los Angeles. Capture the spectacular views of the Queen Mary, Long Beach Waterfront, Aquarium of the Pacific, Belmont Shore, and Battleship USS Iowa Museum.
Most of the helicopter operators keep a limit of 2 people per booking. The places are generally stroller accessible. People with heart problems or other serious medical conditions should abstain. Infants must sit on laps.
#3.  Cruise to Catalina Island 
Love ocean and azure sky and everything in between? Now is the time to live out your dream. Add it to your things to do in Long Beach. Catalina Island is just an hour away from Long Beach, San Pedro, and Dana Point. Vessel operators here practice the best safety norms.
#4. Tour through Naple Canals
If kayaking and paddling are on the top of your mind, visit Naples. It's a neighborhood of Long Beach situated on three islands located in Alamitos Bay. The islands are divided by canals that open into the bay. It's a lookalike of Venice, and you will find streets on the island with Italianate names. The city was named after the Italian city Naples. The center of Naples features a large fountain that serves as a popular meeting spot. Lighting along the canals is a spectacular view during the Christmas holiday season.
#5. Long Beach Waterfront
The Long Beach waterfront grabs the attention of all age groups. Ride electric scooter across the waterfront. Shop and eat around. There's plenty of paved space for easy walking. There are some nice lawns. The Rainbow harbor, boats, and lighthouse create a great environment to enjoy. Within a relatively small area, you get cool options for dining, shopping, and walking.
#6. The Queen Mary
Revisit the Old Hollywood glamour and experience the rich maritime history at this
Specialty Museum. The Queen Mary is a full-service Long Beach hotel. The historical landmark and entertainment venue is abode to award-winning restaurants, historical attractions, numerous special event salons, and 346 staterooms.
#7. Shoreline Village
Now is the time to bring some nice memory. This waterfront boardwalk has quirky shops, souvenir stores, and restaurants. There is a special fun zone for kids with a carousel, live entertainment, beautiful views of the city, and gorgeous sunsets.
#8. El Dorado Nature Center
Whether you are on a romantic holiday or family vacation with kids, add this one of the notable educational sites to your things to do in Long Beach. The natural park is located alongside the 605 freeway. Enjoy walking through the moderate trails. You will love the calming, serene environment. Experience a wide multitude of outdoor activities.
#9. Rosie's Dog Beach
Surprising? Yes, Rosie Beach has a dog and only a human section. Rosie's Dog Beach is a man-made beach along the Ocean Blvd between Roycroft and Argonne Avenues opened in 2003. The area has metered parking in the Bennett Avenue lot, trash cans, and nearby restrooms. Dogs are allowed in scheduled hours, or any other place than Dog Zone and access paths. The water in Long Beach is warm.
#10. Earl Burns Miller Japanese Garden
The Garden is a living museum, a place of learning, art, and culture. Walk through a colorful garden nurturing a variety of flora and fauna. It has exciting cultural celebrations and intriguing exhibits. Listen to the melody of koi and hummingbirds and experience the joy of feeding the adorable species.